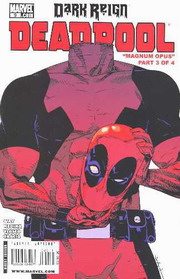 [VO] Magnum Opus : Hard To Get (3�me partie)
Tie-in to "DARK REIGN"
SPECIAL CROSSOVER WITH THUNDERBOLTS! Love is in the air — but so are a whole lotta bullets! Is Black Widow really falling for Deadpool, or is she using her feminine wiles to bamboozle our questionable hero? Here's a hint: her name is Black Widow! Don't do it, Wade! MAGNUM
OPUS, the shoot-'em-up romp of the year, revs toward its conclusion as Deadpool pulls an ace from up his sleeve. Enter: TASKMASTER!

Publications en VF: