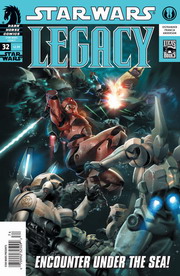 [VO] Fight Another Day (1ère partie)
Darth Krayt's program to exterminate the Mon Calamari is still in progress, with only the Mon Cal Rangers standing between the refugee populace and certain doom. Now a Sith scientist has a new weapon against which the Rangers are powerless.

Faced with a choice between allowing refugees to perish and sacrificing themselves in a fruitless delaying action, the Rangers turn to an unexpected-and reluctant-source for help.

Publication en VF:
| | |
| --- | --- |
| | dans Renégat (Star Wars - Legacy #6) |